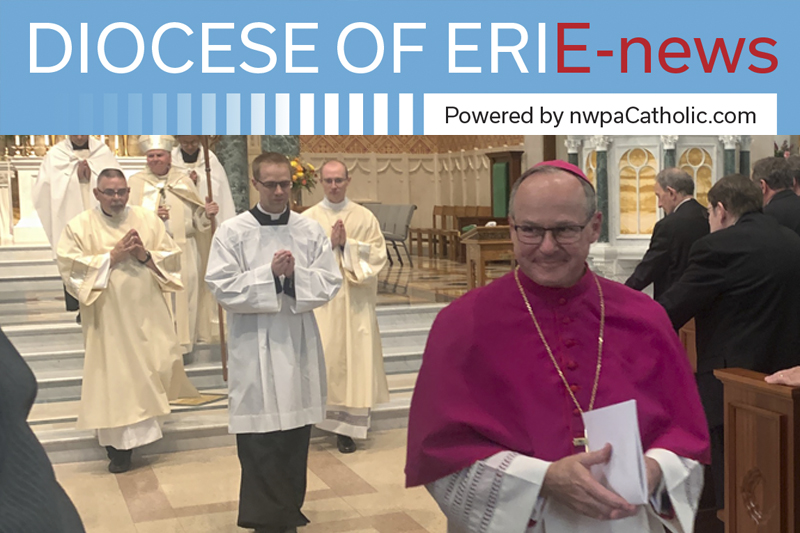 Receive the FREE electronic newsletter and enjoy Catholic news on the local, national and international level.

SUBSCRIBE TODAY!
---
Welcome friends,
Welcome to the website of Saint Michael Catholic Parish in Greenville, Pennsylvania. We have the privilege of serving the Catholic community of northern Mercer County with two worship sites: Saint Michael Church, Greenville and Saint Margaret Mission, Jamestown and in our parish based Saint Michael Catholic School. I hope that your use of this site enables you to find information, build faith, and consider being a part of our wonderful family of faith. Thanks for your interest and know that you are important and cared for.
As Jesus proclaims in the Sacred Scriptures remind us "Come to me all who are weary and burdened, and I will give them rest." If you too need a place where you can rest in faith and concern, our doors are always open.
May God bless you and your family in His love.
— Fr. Brandon Kleckner, Pastor
---
Mass Times St. Michael Parish Greenville and St. Margaret Mission, Jamestown
Weekend Mass

Saturday: Vigil at 4:30 p.m.
Sunday: 7:00 & 11:00 a.m.
St Margaret 9:00 a.m.
Daily
Mon - No Mass
Tues-Wed-Thurs-Fri
at 9:00 a.m.
First Saturday at 9:00 a.m.
Holy Days

Vigil 6:30 p.m. St Margaret
9 a.m., 6:30 p.m.
St Michael
Confessions
Saturdays 3:00-4:00 p.m.
Wednesdays 8:00-8:30 p.m.